Class Spotlights

---
Mrs. Broach's Law Ed Class Welcomes Guest Speakers
Officers Justin Hardee and Christian Seal from the FCSO Forensics Department joined Mrs. Broach's class Thursday and brought some "friends" with them! These officers gave up their lunch hourto discuss their roles in the investigation process. They taught students how to tell the differences between male and female skeletal remains, fingerprinting, and so much more interesting aspects of their jobs! The students really enjoyed them coming!
Mrs. Broach's Law Ed Class learned more about the responsibilities of law enforcement officers, forensics, and court proceedings from special guests this week including Lt. Gary Lewis from the FCSO, the FCSO Forensics team. They look forward to Judge Holly Wall's visit on Monday.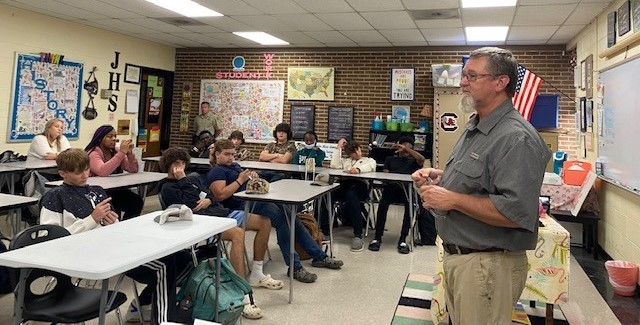 The Mrs. Denise Floyd and the teacher cadets traveled to Coastal Carolina University on Tuesday, September 13 to attend the Teacher Cadet Day. One of the highlights of the day was listening to 2023 South Carolina Teacher of the Year Deion Jamison, an English teacher at Legacy Early College with the South Carolina Public Charter School District.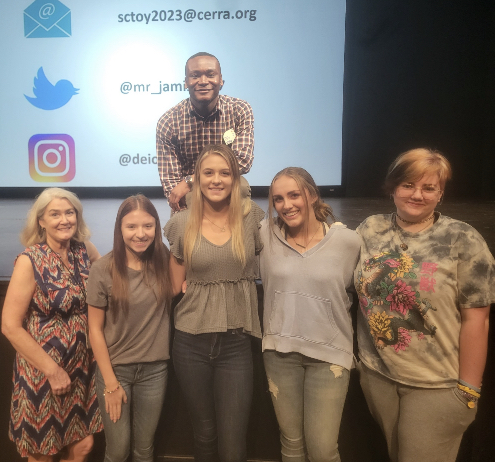 Smiles for Teachers from Coach Welch's Classes
Coach Brian Welch's Government students recently shared smiles with their teachers. Students shared smiley face stickers with their teachers. Teachers wore the smiles throughout the day on Friday, September 2. This simple act of kindness literally brought smiles to our students and teachers throughout the day. Thanks to Coach Brian Welch and his students for making us smile!

3D Printing with Mrs. Miller's Class
Digital Publication Design used the 3D Printers to understand how you can design using output devices. Animation class used the 3D printers to understand how animators use 3D printers to create stop motion animation with designing characters!