Destiny Discover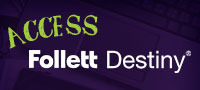 ---
Here you will find Destiny Collections of books and topics, sort of like library displays and/or research links on a topic. Collections include print books which are available for checkout in the JHS library and a few eBooks which may be checked out online.
Scroll and explore the eBooks and search for library materials by genres, topics, "Popular Titles," or "Recently Added Books."
Print Book Policies:
You may still check out up to 3 print books.
Print books are due in 2 weeks from the date of checkout.
Please renew books if you need them longer than 2 weeks.
Overdue notices will be emailed to your school email account.
To request books, you may place holds here in Destiny Discover. You must be logged in to do this.
Destiny eBooks:
eBooks may be checked out or read online without checking out.
You must log into Destiny Discover to check out these eBooks. User name: student barcode number. Password: last name
If you check out a Destiny eBook it will automatically be returned after 14 days.
There are also apps available for reading, "Destiny Read" app and "Destiny Discoverer" apps are available from your app store if you wish to read on other devices.
Check out SORA and TEEN Book Cloud for more eBooks and audio books.