Junior Ring Ceremony: Wednesday, December 9, 2020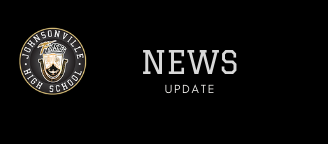 ---
November 24, 2020
Dear Parents and Students:
Johnsonville High School cordially invites you to participate in the 2020 Junior Class Ring Ceremony which will be held on Wednesday, December 9, 2020, at 7:00 PM in the high school gym.
This ceremony is a very special time for our juniors. It is a chance for someone they care about to recognize their many accomplishments by presenting them with their class ring. This ring is something that they can cherish forever.
In preparation for this event, we need a response from you. Please email Mrs. Gough at vgough@fsd5.org by Wednesday, December 2, 2020 and indicate whether or not you will be participating. If you do plan to participate, please provide the following information:
Student Name:
Name and relationship of one person presenting the ring:
Please note that balances should be paid in full by Monday, December 7th, 2020, in order to participate. If you choose not to participate in the ceremony, the student will not receive his/her ring until the next school day (Thursday, December 10).
Students will receive four guest tickets for the ceremony. The ring presenter will need one of the four tickets provided.
Should you have additional questions, feel free to contact the main office at 843-386-2707.
Thank you.